Are you going to Buy a laptop? in 2016. Best laptops which gives awesome performance in Technology Market. Here iTech Hacks brings for you Best laptops for gaming, hacking,in this year 2016.here you see Top 10 Best Latops to Buy in 2016 with their original pictures. 
Laptops are the portable type computers for those who just need their work done even if they are not home in front of their computer.Laptops are the best combination of portability and power that you can carry with you all the time.
Also Read: Basics Hacking Guide For Beginners 2016
Here are the best Laptops that you can consider to buy at the time as these provide you with the most advance performance and great features also.
Top 10 Best Latops to Buy 
Also Read: How To Change IMEI Number of Android
#1. Microsoft Surface Pro 3
This tablet is the decent replacement to the laptop and if you need a single device to do everything then this should be the best for you.This device is priced in budget and you can consider to buy it as it is not priced too heavily like most of the Pc and laptops are.
#2. Toshiba Satellite P50T-C-109
The Satellite P50t has some great features like UHD IGZO screen and nVidia gaming graphics, plus some metal machining to suggest premium build.The only let down is it's reflective screen and weak battery life.Although this device prooves much fast to perform smoothly on moderate usage.
#3. 13-inch Retina MacBook Pro (early 2015)
Retina-screened 13-inch MacBook like other models with same panel were really well performing devices. It provides the storage speed up to double to that of 2013 models. The all new Force Trackpad feature brings great benefits in touch control as it also has an intelligent coprocessor that helps interpret our digital movements.The Broadwell processor in it helps you to get some great performance and it also affects the battery life too. Graphics performance was also good that it provides. It could be called as the world's finest 13-inch notebook too.
#4. HP EliteBook Folio 1040 G1
The only ultra-portable that can really match the performance of MacBook is HP EliteBook Folio 1040 G1.It is the machine that integrates within the best available raw material that in all performs to surpass the quality and performance of MacBook.The sreen quality could not show any edge over the Retina display but it really performs very well.
#5. Dell Inspiron 15 7559
Durability at it's end that you get on this device but the design could be no great.The performance and the graphics processing on this device are really good and could make great sense for you if you are lover of games or you are a professional who just needs it in his work.Although the screen is quite reflective but the quality is decent for outdoor usage also.
#6. 15 Inch-Retina MacBook Pro.
Although this model is not fledged with a quad-core processor but the performance is really good.You also get an updated graphics processor and the storage options that makes some difference in this 15 inche Laptop.This device is also upgraded with Force Touch trackpad interface inside that could be great option for the buyers as it provides much more features than windows could have to offer.
#7. Alienware 13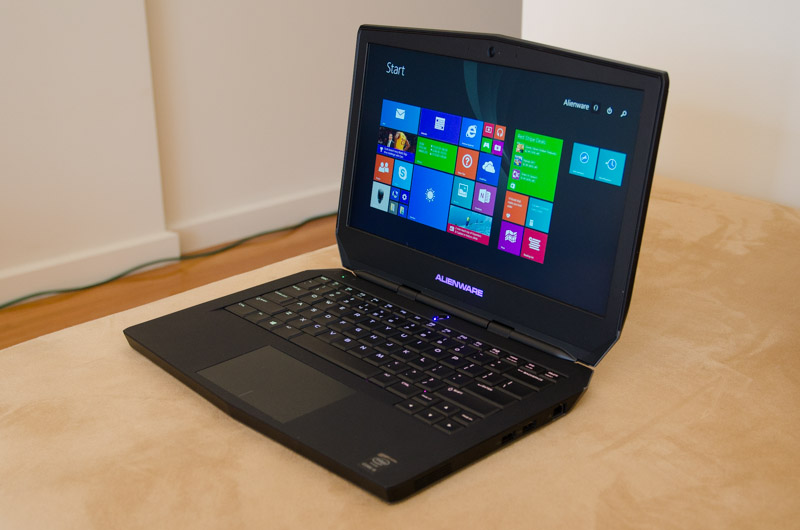 The Alienware 13 is a compact yet very powerful laptop that could be suited for those who love to play high end games as it has very powerful graphic processing hardware inside. It's chunky thick but also relatively light in weight.The design may not be very appealing but the build quality is very good.
Also Read: Secure Social Media Accounts (Facebook/Gmail) From Hackers
#8. Microsoft Surface Book
The expensive model from Microsoft that provides really a great design with top notch features.The performance in case of graphics processing is also top notch as it has been integrated with Nvidia GPU.The battery performance of this device is also really amazing .Overall you get a masterpiece that you can get only if you can afford to do so as this one is really priced very high.
#9. Asus ZenBook UX303U
Running on windows platform this portable laptop performs really well in all cases.The quality of the screen is also very good as it has a Full Hd matt screen and that also performs great in every conditions.The speed of performing the tasks is also really well.If you want not to undertake any part of the performance then you should buy this reliable product from Asus.I too use the asus product, but i am not using asus laptops ever but in case of there smartphone i use Asus Zenfone C.
#10. Dell XPS 13 9350
The Dell XPS 13 9343 stands out of the crowd in the world of Windows laptops as this compact laptop outdoes the obvious competition many respects like screen quality and the near-border less display. It is a 13.3-inch laptop that takes up little more space than an 11.6-inch model.The poor thermal management needs some improvement, while a non-touchscreen version could answer other outstanding issues.
Above are the Top 10 Best Latops to Buy in 2016. Buying of laptop is so confusing job i know it. So be careful while purchasing a good Laptop for home purpose or for Professional Work. Don't Forget To Share it.