Today I will list Top Best PDF Readers for Android available in the Google Play store and Android app store. There was a time when pdf files can only be opened from a PC but now things have changed for good, making it easier for us to access from our portable gadgets like Android device.
Let's jump into the list of PDF Readers for Android. I have tested them all personally for a better experience.
Best PDF Readers for Android 2020
---
#1 PDF Reader
The name PDF Readers for Android is what it does, it comes with plenty of key features that it can be called " All In One" pdf reader. It is good for those who use a pdf reader frequently. It is integrated with loads of features, you will never find it any of the readers on the list here. Which is why it definitely goes into my list. It has a decent interface with lightweight experience. It works super fastly compared to Foxit and adobe reader in terms of speed and performance, especially for students.
It has an inbuilt browser to look up for recent books read.
It is a free android app.
Supports comic formats like cbr, cbz , also supports ePub and etc.
Not only it can read PDF, DIVU, OPENXPS, AND Fictionbook supported.
You can export file to a text format file.
It can view multi languages like Japanese, Cantonese, and Korean.
Night profile reading enabled.
#2 Adobe Acrobat Reader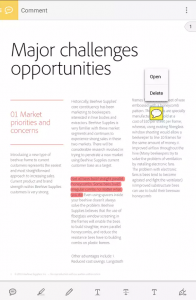 Adobe Acrobat reader is a famous reader, the user now considering it as default PDF reader for their smart-phones. It has so many standard features, which you can find on another standard PDF reader. it detects all PDF files on your device, you can open any PDF file from your device to mail. You can look up for a document right from the search bar. This app is more suitable for big screen or Tabs because you can zoom in and out as you like. The interesting part of Adobe Acrobat is that you can save files into in-built cloud storage provided in the app later on you can access them and saves your storage as well. Moving to its interface it is the more space-age user interface, very smooth and clean.
It's a free android app.
Performance is very good for mid-range devices.
Suitable for larger screens devices.
It has all standard features like zoom in/out, sharing etc.
Inbuilt cloud account.
Space age user interface.
CONS: It crashes sometimes when opening files above 200MB, No SD card supports for less internal memory devices like HTC wildfires.
Must Read: Best General Knowledge Android Apps
#3 WPS Office + PDF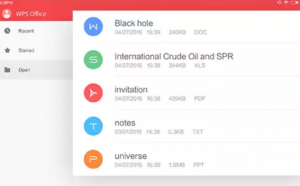 WPS PDF is one of the another Best PDF Reader for Android. It is an excellent android app for all sort of office use, It does deliver what it says namely. Coming to user interface I would say it has decent experience making the user fire up the app again and again. It has all standard feature to open all MS-office documents including PDF, it works as a charm in many aspects. If you use PDF occasionally this should be good for you as it also covers your all MS related files in one single android app. It can also be used on other platforms like IOS and Linux. Don't worry all of this features will be free of cost, Yes it is a freeware.
Free android app.
Excellent UI.
A load of features like you can access files from FTP/WebDAV.
Supports 50+ languages.
It is good for tablets.
Sharing is also possible via WIFI, DLNA or NFC.
You can open files from the icloud as well.
Download WPS Office + PDF from Google play
#4 Foxit Mobile PDF Reader
Foxit PDF reader has left many users surprised not only by ratings as well as by performance. If you are looking for a standard PDF reader, Foxit PDF is your answer. It is a handy free PDF reader app for Android devices packed with decent features. It opens files very quickly even if it is a larger file around 300MB without a hassle. It supports all traditional languages. It is easy to use.
It is a free android app.
It can open larger files smoothly.
All standard features are in it like zoom in/out, search bar, open files from the cloud.
Supports all traditional languages.
UI is very decent.
You can annotate, highlight insert signatures etc.
CONS: To unlock premium features you have to subscribe to their paid version.
#5 MuPDF
I know, there are many users out there, who use PDF occasionally could be one time or twice a week. This android app is for those who are looking for a basic use. MuPDF is a free android app with all basic features. Thanks to developers for adding very clean and decent UI, it will force you to use it again because of the simple nature of the app. Moving to UI, which is quite graphical. Coming to features it can open various files like PDF, CBZ, XPS, and EPUB. You can open files very fastly.
Free PDF Reader Android app.
Lightweight app.
Supports PDF, CBZ, XPS, and EPUB.
It also can view OpenXPS with a high-quality experience.
MuPDF doesn't consume much space.
Also Read: Reduce Data Usage On Android
Wrap Up:
All of the Android apps listed above are tested for performance and stability before it went down in the list. As you can see, I have not listed many apps high rated and famous apps, one of them is google pdf viewer lacks in performance and features but I'm sure google is learning and will come back with a better app for their users to win back their trust.
When it comes to PDF Readers for Android 2020 we need all basic features at free of charge while few apps are charging few bucks which is annoying. If you have any question regarding the list or if I have missed something, feel free to comment.